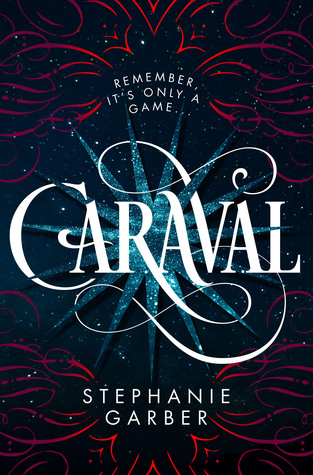 So…I picked this book up because I loved The Night Circus by Erin Morgenstern, and these two have been compared to each other in some other reviews.
Yeah…except…The Night Circus is not young adult, first. Secondly, Morgenstern's writing has entirely more lyrical prose than what you'll see in Caraval. Then, of course, there's the fact that Morgenstern creates an extremely elaborate world that is vividly described with interweaving characters who are complex and who are all intricately linked to the complicated plot. Caraval, sorry to say, is none of these things.
First, the world building is okay but too big. The Night Circus focused on a small area and a few extremely beautiful and visual tents within its borders. Caraval (the world, not the book) suffers from its expanse. It is simply too large and seemingly uncontained. I don't mind large worlds (Harry Potter!), but everywhere the main character Scarlett and her would-be, tarnished knight-in-shining-armor, Julian, go, it seems like its an entirely different world than Caraval. Garber tries to create a whole city that is reminiscent of picturesque cobblestoned streets and waterways much like those of Venice; however, the world seems like it's several different places rolled into a carnivalesque society. It's simply too much to take in.
While I'm okay with this lack of world building, honestly,  I know some people are put off by it. My real pet peeve is a lack of character development, and this book has that, too! ¯\_(ツ)_/¯
My main problem is Scarlett, who is so scared, possibly rightfully so, that she can't see beyond her fear to make actual good decisions. Plus, she was boring. Her only passion was saving her sister, Tella, from their abusive father and then Caraval itself. But she needs constant validation of this sacrifice. A good martyr doesn't acknowledge as much as she does her martyrdom. She feels resentment because Tella's so reckless, according to Scarlett, and never thanks Scarlett for her sacrifices. Turns out though that Tella is not reckless as she is strategic and is waaaay more sacrificing than Scarlett. Scarlett actually comes across as the naive and utterly useless older sister in the end.
We're told who they are constantly, rather than shown through their stories. Since this is largely told through Scarlett's very narrow perspective, their motivations, especially Julian's, seems unbelievable and questionable.
The plot was also an issue for me; I feel like the clues were lacking in depth and there was no way that, as a reader, you would be able to figure out where Scarlett should go next. Her choices seemed rather random in places, mainly because the descriptions fail to help the reader make a connection.
All the negatives aside, Caraval was somewhat entertaining, if you don't go into it with high expectations, like having on your mind a comparison to The Night Circus. This comparison would be damaging for Caraval. 😛
Oh, and Tella. I'm actually looking forward to the next in the series, which, I assume, will focus on Tella—a much more interesting and complex character than Scarlett. And as long as Garber keeps Tella's intellect and determination in place, I don't see how it couldn't be better than Scarlett's story.
That's all for now, my darling young adult fantasy readers. Until next time, I hope you enjoy the adventures in your own stories—in books and in life!
Ta-ta for now, my dears,
HMichaele